Research and Knowledge Management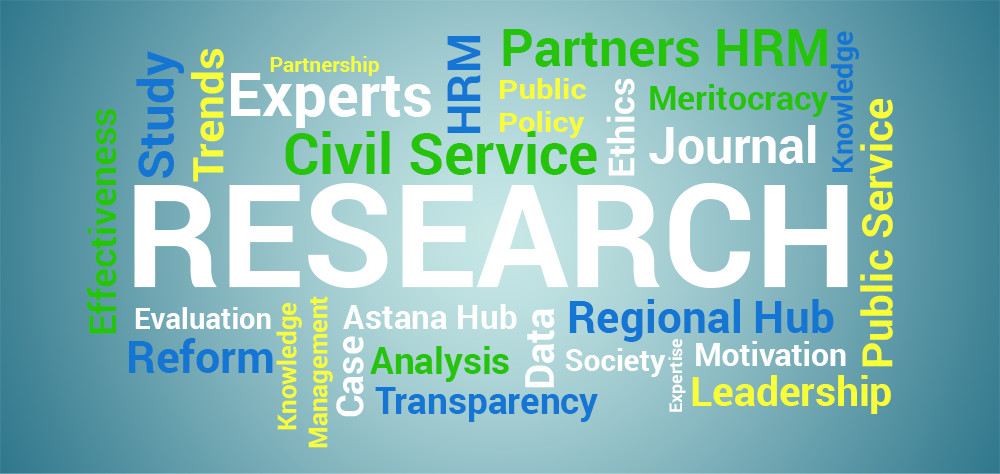 The Astana Civil Service Hub views research and knowledge management as an important pillar of its activity. The Hub aspires to serve as a knowledge network or broker, and map, draw upon and, where gaps exist, carry out applied research and analysis on civil service development and professionalization.
The research component of the Hub is demand-driven. The Hub periodically administers needs assessment studies, which determinate its capacity building and research activities (first baseline survey results, second baseline survey results, third needs assessment survey).
The Hub closely cooperates with the UNDP Global Centre for Public Service Excellence in Singapore in its research activity. Among the flagship joint projects is Global and Regional Trends in Civil Service Development, a large-scale review of the strategies, policies, programmes and other measures deployed across numerous civil service systems around the world, which can serve as a resource guide to policy makers and practitioners on contemporary development and future trends in civil service transformation. Another joint study - Motivation in civil service - is a comparative research on public service motivation in Kazakhstan and Pakistan, providing practical instruments to address motivation related issues of public officials in developing countries.
In 2018, the Hub jointly with OECD and the Agency of Kazakhstan on civil service affairs and anticorruption completed a comparative study "Benchmarking Civil Service Reform in Kazakhstan". It is the first and unique research that compares Kazakhstan's Human Resource Management practices against those of OECD countries.
ACSH's research related activities also aim at studying successful civil service reform cases in participating countries to further facilitate knowledge and experience exchange among them.
The Hub develops discussion papers examining current views, and providing specialist insights, on specific civil service related issues.
The Regional Hub publishes the International Journal of Civil Service Reform and Practice (IJCSRP) - a practitioner-oriented, peer-reviewed, open access journal. The Journal aims to provide access to global knowledge on civil service reform theory and practice, public sector human resources management and development, public service delivery, and ethics and anti-corruption practices to the CIS, Central Asia, the Caucasus and other ACSH participating countries by publishing high quality papers based on original and novel research in the field.
In 2015, the Hub launched an Innovative Solutions Scheme with the purpose to identify some of the most effective innovative solutions in civil service and public service delivery, and provide them with a grant to encourage their replication in other countries.
Since 2016, the Hub publishes an ACSH Bulletin, which covers insights on civil service issues and contains news about the Hub's activity.