ACSH ANNUAL CONFERENCE 2016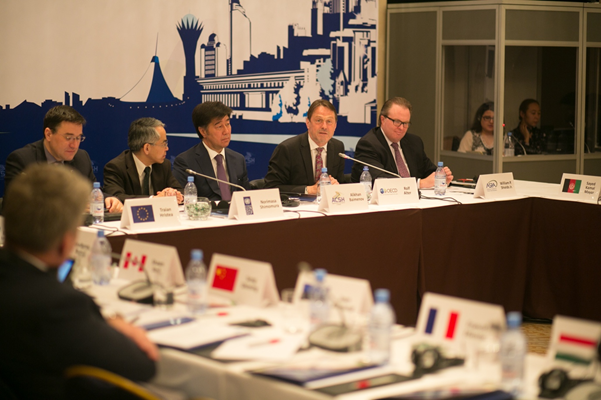 Date: 04.04.16
Place: Rixos Hotel, Astana, Kazakhstan
Theme: Partnership for Civil Service Excellence
Astana Civil Service Hub held its Annual Conference on "Partnership for Civil Service Excellence" on 4th of April 2016 in Astana. In the framework of the Annual Conference, ACSH jointly with OECD organized seminar to discuss OECD civil service standards and principles and leadership in civil service.
The aim of the Conference is at informing the ACSH participating countries and partners on what Hub accomplished over the last three years, where it is heading, and accordingly, receive feedback from the representatives of the participating countries. The Conference also provided a platform to elaborate new ideas of the ACSH's further development, define the role and functions of the ACSH Advisory and Editorial Boards.
Alikhan Baimenov, Chairman of the Steering Committee of the Regional Hub of Civil Service in Astana, Norimasa Shimomura, UN Resident Coordinator and UNDP Resident Representative in Kazakhstan, Talgat Donakov, Minister for Civil Service Affairs of the Republic of Kazakhstan and Traian Hristea, Rolf Alter, Director for Public Governance and Territorial Development of the Organisation for Economic Co-operation and Development (OECD) and Head of the EU Delegation to Kazakhstan opened the conference with introductory remarks.
Representatives from more than 30 countries attended the conference, including such well-known experts in the field of civil service as Executive Director, American Society for Public Administration (ASPA) William P. Shields Jr., Chairman of the Council of Europe's Group of States against Corruption (GRECO) Drago Kos, Director, UNDP Global Centre for Public Service Excellence, UNDP Singapore Max Everest-Phillips and Distinguished Professor of Public Administration of the Chinese Academy of Governance Song Shiming.
Participants were given the opportunity to consider new and innovative solutions and experiences of different countries in this field and ideas for further development of partnership in the framework of Hub, which was marked by them as an effective institutional platform for the incessant exchange of experience and knowledge in the field of civil service.
The conference was also attended by representatives of the Executive Office of the President of the Republic of Kazakhstan, the Ministry for Civil Service Affairs of the Republic of Kazakhstan and other state bodies of Kazakhstan, UNDP, OECD, ASPA, the EU and the diplomatic missions accredited in Kazakhstan.
Documents:
Déontologie PS 4 avril 2016 V5 English
OECD ACSH Seminar April04 Session 1 Eng
OECD ACSH Seminar April04 Astana Session 3 Eng
Related news: http://old.astanacivilservicehub.org/en/news/2681