ACSH ANNUAL CONFERENCE 2017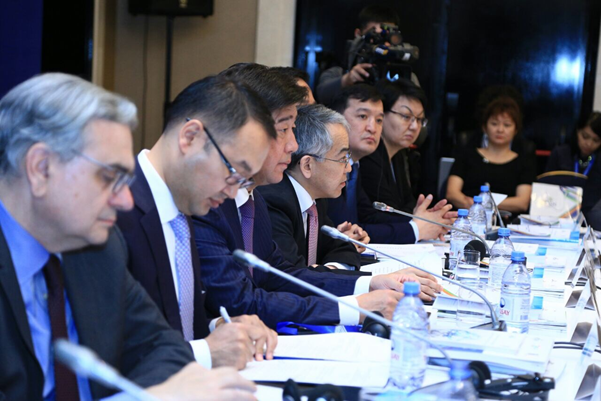 Date: 12 April 2017
Place: Astana Marriott Hotel, Tengiz-Zaisan Ballroom
Theme: Partnership for Civil Service Excellence
On 12 April 2017 ACSH held its Annual Conference "Partnership for civil service excellence" in Astana. This conference provided an interactive platform for holistic discussions among participants from the diplomatic corps, civil service authorities of ACSH participating countries, multilateral organizations and ACSH expert network.
The welcoming remarks were delivered by Mr. Alikhan Baimenov, Chairman of the Steering Committee of the Regional Hub of Civil Service, Mr. Norimasa Shimomura, UN Resident Coordinator/UNDP Resident Representative in Kazakhstan, Mr. Jorge Chediek, Envoy of the Secretary-General of the United Nations Office for South-South Cooperation, Mr. Yerzhan Ashikbayev, Vice-Minister of Foreign Affairs of Kazakhstan, and Mr. Edwin Lau, Head of Division on Public Service Reform of the OECD.
At the conference, participants from 40 countries considered pressing issues and challenges faced by the countries of the region in the sphere of civil service, as well as the role of partnership and the Hub in their solution. The Heads of the authorized state bodies of Kyrgyzstan, Armenia, Georgia, Azerbaijan, Mongolia, Ukraine and Estonia took part in the discussions.
Mr. Shawn Steil, Ambassador of Canada to the Republic of Kazakhstan, Mr. Francis Etienne, Ambassador of France to the Republic of Kazakhstan and Mr. Drago Kos, Chair of the OECD Working Group on Bribery in their speeches also stressed the role of the Hub in strengthening bilateral and multilateral partnership in the field of civil service.
The results of Hub's research generated much interest among conference participants, in particular, review named "Global and regional trends of civil service development" -a unique summary of the development and reform of civil service in Europe, North America, Southeast Asia, the Caucasus and the CIS over the past twenty years. Participants noted the practical benefits of analytical materials – case-studies on public services delivery, anti-corruption initiatives, civil servants' motivation and country profiles of the civil service of the participating countries of the Hub, as well as the high level of Hub's journal publications.
In addition, there were discussed further perspectives and new opportunities for cooperation among the countries of the region within the framework of the Hub, which became a recognized center for the continuous exchange of experience and knowledge in the field of civil service.
Documents: Agenda of the event
Related news: http://old.astanacivilservicehub.org/news/6049