ACSH ANNUAL CONFERENCE 2018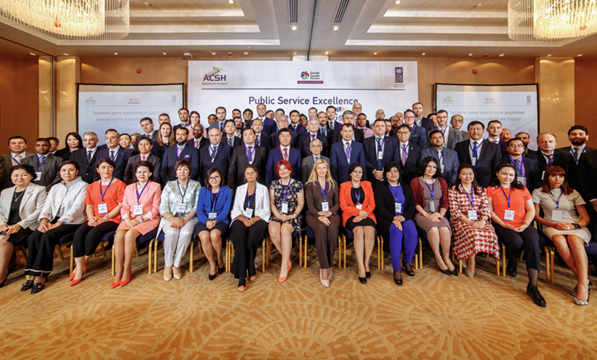 Date: 7-9 June 2018
Location: Astana Marriot Hotel, "Balhash" hall
Title: Public Service Excellence in the Era of SDGs
The Astana Civil Service Hub (ACSH) was established in March 2013, by 25 countries and 5 international organizations, to serve as a multilateral platform for the continuous exchange of experience and knowledge in the field of civil service development. The geographical range of participants stretches from the Americas and Europe, through the CIS, the Caucasus and Central Asia to ASEAN countries, demonstrating that partnership for civil service excellence is a constant and universal need for all nations.
The Astana Hub of Civil Service has, every year, organized a conference to update its partners, and beneficiaries on its accomplishments and results achieved during the preceding year; as well as to present them with its initiatives and planned of activities for the coming year. 2018 marked the 5th anniversary of the ACSH's establishment, this annual conference aspires to review and reflect on its accomplishments and performance over the past five years, as well as on the role of partnerships in the era of the Sustainable Development Goals (SDGs). This conference consisted of a number of side events and provided an interactive knowledge sharing arena among a wide range of participants from the ACSH participating countries and partners, multilateral organizations and diplomatic corps as well as ACSH expert network and members of the South-South Network for Public Service Innovation.
Heads of civil service agencies and experts from over 40 countries gathered in Astana to discuss key issues in civil service development. Representatives of Bangladesh, Brazil, Uzbekistan and Montenegro participated at the conference for the first time. The first series of Hub Talks were introduced during 2018 ACSH Annual Conference. Hub Talks is "TED style" talks on various issues in public administration and public service delivery. Also representatives of Estonia, Kazakhstan, Uzbekistan, Kyrgyzstan, Georgia, Armenia and Azerbaijan established Peer-to-Peer Learning Alliance on the Development of Electronic Government. The Alliance has been created in accordance with the OECD Platform for Effective Institutions methodology and is aimed at experience sharing on public services digitalization among practitioners of seven countries.
All materials related to the ACS Annual Conference 2018 will be available via link
Related news:
http://old.astanacivilservicehub.org/news/7565
http://old.astanacivilservicehub.org/news/7448
http://old.astanacivilservicehub.org/news/7424
http://old.astanacivilservicehub.org/news/7430