ACSH ANNUAL CONFERENCE 2019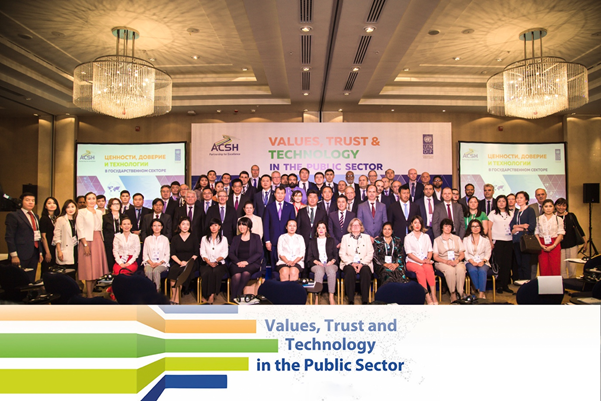 Date: 13-14 June 2019
Location: Astana Marriot Hotel, "Balhash" hall
Title: Values, Trust and Technology in the Public Sector
On 13-14 June 2019, the Astana Civil Service Hub (ACSH) conducted its 6th Annual Conference in Nur-Sultan, Kazakhstan. The Astana Civil Service Hub annually conducts a conference to bring all stakeholders together to exchange opinions and information on the progress and results achieved during the preceding period, as well as to discuss current trends in the civil service reform and initiatives for the coming year. The Hub's Annual conference has become a platform for the public service practitioners and academia coming from all over the world.
This year's conference theme, 'Values, Trust and Technology in the Public Sector,' was chosen in response to the needs of the Hub participating countries and to the current developments in the public sector.
The Conference was attended by heads of authorized bodies in the civil service and foreign experts from 30 countries, as well as representatives of international organizations. During the Conference, a Peer-to-Peer Learning Alliance was established based on the Effective Institutions Platform (EIP) methodology, implemented in the OECD Secretariat. The Alliance with the participation of Georgia, Armenia, Ukraine, Azerbaijan, Kyrgyzstan, Tajikistan and Kazakhstan is dedicated to Transformation and Innovations in Governance. The Alliance operates on «peer-to-peer» principles.
During the Annual Conference the composition of the Steering committee of the ACSH has been changed. Mr. Yakup Beris, newly appointed UNDP Resident Representative in Kazakhstan, has replaced Mr. Norimasa Shimomura, UN Resident Coordinator for Kazakhstan, and become a Co-Chairman of the Steering committee of the ACSH.
General Findings of the Conference:
Declining trust in government is a phenomenon that can be observed in many parts of the world. In tackling this issue, it is crucially important to change mindsets, values and culture within civil services and ensure shifting from transformational leadership to servant leadership in public sector.
In general, to enhance trust leadership should, first of all, put efforts in curbing corruption and make public institutions more open, accountable and transparent. It is crucial to clearly identify the mission of an organization, its objectives, and ensure participation by employees and non-existence of favoritism.
The issues of gender balance should be promoted and ensured in civil services of the ACSH participating countries in order to increase and strengthen women's participation in governance and decision-making.
All photos from the Conference will be available via this link.
For the agenda of the event please follow the link.
Presentations from the Conference are available via the following links:
Alex B. Brillantes, President of the Asian Association for Public Administration (AAPA) - "Leadership, Values and Trust in Public Sector Reform"
Assem Andrews, Policy Specialist – Knowledge Management, Oslo Governance Centre, United Nations Development Programme - "UNDP Oslo Governance Centre at 2019 Annual Conference of ACSH"
Drago Kos, Chair of the OECD Working Group on Bribery in International Business Transactions -"Enhancing public integrity through enhancement of trust"
Garush Davtyan, Head of the Civil Service Office, Prime-Minister's Office, Republic of Armenia - "Technological Bridges for a Reliable Partnership"
Gegham Sargsyan, Deputy Head of Civil Service Office of the Prime-Minister of the Republic of Armenia - "New Civil Service System: New transformations and Innovations"
Ievhen Kovalyov, Head of the Department of IT technologies and resources, National Agency of Ukraine for Civil Service - "Pilot project implementation of Human resources and payroll management information system"
Keping Yao, Governance and Public Administration Expert, UNPOG of the UN DESA - "Instituting Data Governance for Advancing Digital Government"
Maia Dvalishvili, Deputy Director of Civil Service Bureau of Georgia - "Georgian Experience: Progress in Implementation Key Legislation and the Development of e-tools"
Marc De Tollenaere, Policy Analyst GOVNET & EIP Secretariat OECD - "A Guide to Peer-to-Peer Learning"
Neil Reichenberg, Executive Director of the International Public Management Association for Human Resources - "Recent Trends in Public Sector Human Resources Management"
Oleg Tarbinski, Deputy Director of the State Personnel Service of the Kyrgyz Republic - "Current Trends of Modernization of Civil Service of the Kyrgyz Republic"
Pinar Guven, Policy Analyst, OECD Public Governance and Territorial Development Directorate - "Institutional Change and Gender Equality: Lessons from OECD Countries"
Sayasat Nurbek, Head of Education Projects at BTSDigital - "Artificial Intelligence: the Effect of Techology on Public Administration and Management Models"
Wojcieh Zielinski, Senior Policy Advisor, Reform of the Public Sector Division, OECD Public Governance Directorate - "Building A Value Driven Public Service"
Zharkyn Tleukenov, Head of Department for Civil Service, Agency of the Republic of Kazakhstan for Civil Service and Anticorruption - "Automation of HR Management System in the Public Service"
Related news:
http://old.astanacivilservicehub.org/announcements/31850
http://old.astanacivilservicehub.org/news/39854
http://old.astanacivilservicehub.org/news/41160