2021 NU GSPP Conference – ACSH panel session "The Effect of the COVID19 Pandemic on Public Administration: Lessons learnt; Perspectives for the future"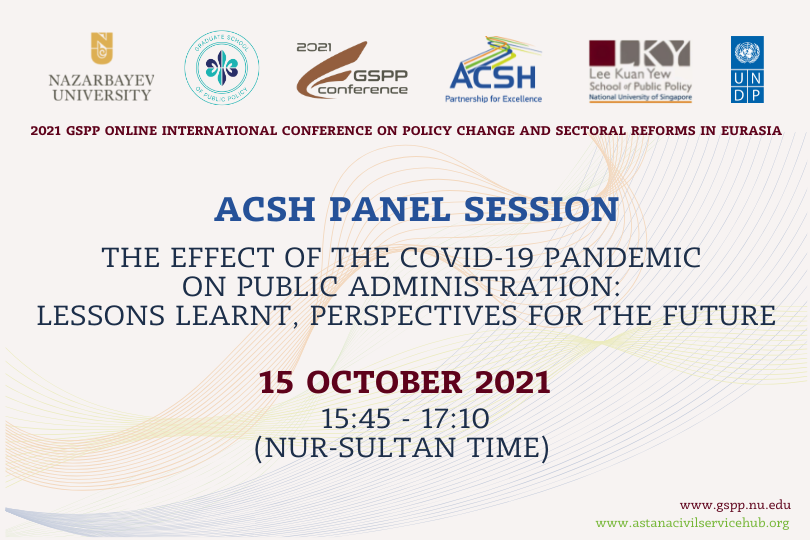 The coronavirus pandemic has had a strong impact on the global economy, on industrial production and on public and private finance. It has also affected social protection and health care systems and has become a real resilience and effectiveness test for public administration systems, of many countries.
The capacity of public administration and the civil service to cope with such issues will surely influence the relative performance of countries in responding to the pandemic and to pursuing their SDG-related objectives, e.g., how to tackle rising structural unemployment, and rising inequality due to globalisation, and how to provide opportunities to women, minorities, and low-skilled and poor individuals. Therefore, it is important to analyse the lessons learned from the COVID-19 pandemic and identify the critical areas where interventions are needed for improving public administration to cope with the emerging challenges across a wide spectrum of policy areas.
Consistent with its mission to contribute to a global exchange of knowledge, experience and best practices aimed at improving the effectiveness of government responses across several policy fields, the Astana Civil Service Hub is organising a panel session titled "The effect of the COVID-19 pandemic on public administration: lessons learnt; perspectives for the future". The objective of this panel session is:
discuss the various challenges public administration systems were confronted with during the pandemic;
analyse the lessons learnt;
identify critical areas where public administration and civil service systems to need to be improved, so they can effectively cope with the emerging new reality.
Audience
Civil servants of the ACSH participating countries and beyond, experts, academics, PhD students, undergraduates and all interested persons are invited to participate in this Conference.
Please register online via following link https://gspp.nu.edu.kz/en/pay-form/
Date: 15 October 2021
Time: 15.45-17.10 PM (Nur-Sultan time)
The official language of the panel session is English.
Simultaneous interpretation will be provided in Russian.
The Concept Note and Agenda of the event are available here.