Evolution and challenges of effective governance in post-socialist countries was discussed at the ACSH panel session within the AMEPPA Conference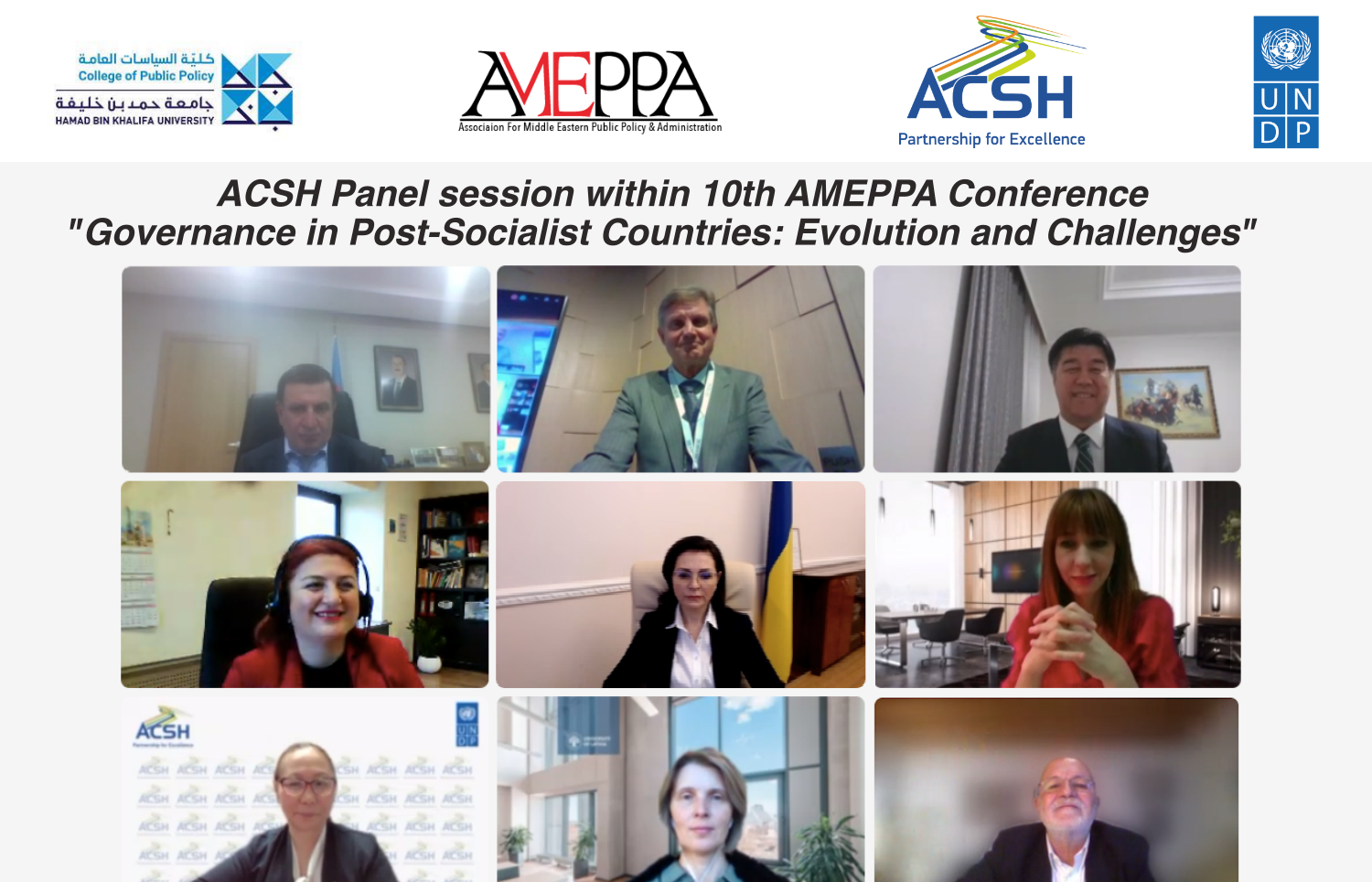 On 7 December, the Astana Civil Service Hub (ACSH) held a panel session in the framework of the 10th Annual Conference of the Association for Middle Eastern Public Policy and Administration, hosted by the Hamad Bin Khalifa University (HBKU). The session was held in blended mode and dedicated to issues of public governance in post-socialist countries and the challenges they faced on the path of transformation.
The panel session was opened by Founding Dean of the College of Public Policy at the HBKU Dr. Leslie A. Pal and Chairman of the Steering Committee of the ACSH Mr. Alikhan Baimenov.
In his opening notes, Dr. Pal said that "we are very honoured to have a Memorandum of Understanding with the ACSH and this is visible evidence of the rekindling cooperation." He also mentioned that people in Gulf region are keenly interested in the development of the interregional cooperation through the ACSH platform for discussing the pressing issues on public sector.
Welcoming participants Mr. Baimenov noted "the unique path that the post-socialist countries have undergone in developing their public administration systems over the past thirty years, understanding of which is of particular interest for both researchers and practitioners." He also mentioned that there is a certain gap in the research and analysis of this experience, which makes the topic of the session highly relevant and timely.
During the session representatives of authorized agencies, academics and experts such as Head of the National Agency of Ukraine on Civil Service Ms. Nataliia Aliushyna, Head of the Civil Service Bureau of Georgia Ms. Catherine Kardava, Deputy Chairperson of the State Examination Center of Azerbaijan Mr. Bahram Khalilov, Head of the Department of Civil Service Agency of Bosnia and Herzegovina Ms. Samra Ljuca, Professor and Head of Political Science Department at the University of Latvia Ms. Iveta Reinholde, and ACSH Capacity Building Specialist Ms. Gulimzhan Suleimenova shared the experience on effective governance, transformation of the state's role and adaptation of developed countries' modern standards that are undergone in the countries.
The event was attended by practitioners and academics from Central Asia, Caucasus, Baltic and Balkan countries, as well as representatives of the Gulf region and Africa, who found the session very fruitful and meaningful, and also received answers to all questions of interest to them.
It was also mentioned that under the auspices of the ACSH, a book from the Palgrave Macmillan publishing house is being prepared for publication. The book will present an analysis of public administration development in 15 post-Soviet countries over the past 30 years.
The session was live streamed and video recording are available at the ACSH Facebook page.
The presentations of the speakers are available below: