Experts Discussed the Impact of the Pandemic on Public Administration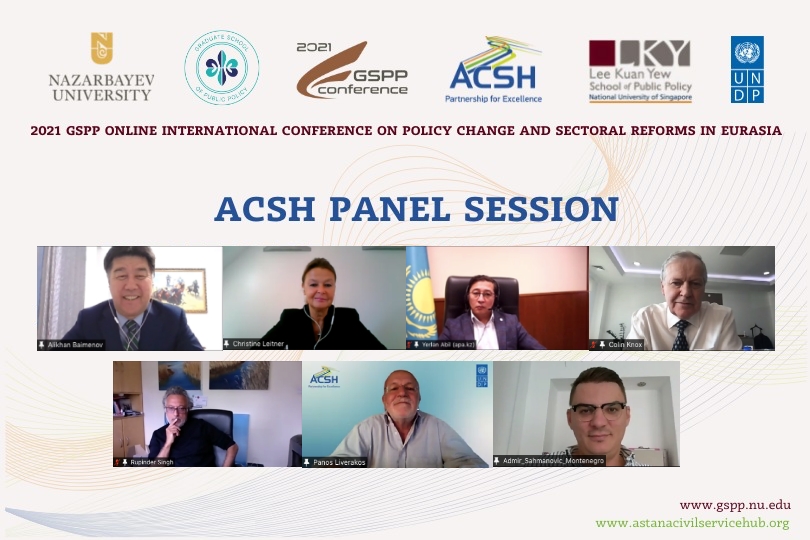 The lessons learnt from the pandemic and the future of public administration were discussed by leading international and domestic experts on a panel session of the Astana Civil Service Hub held within the annual conference of the Nazarbayev University Graduate School of Public Policy.
The event was attended by about 100 representatives of the academic and expert community, as well as doctoral students, master's degree students, and undergraduates from 10 countries of the world.
The Chairman of the Steering Committee of the Astana Civil Service Hub Mr. Alikhan Baimenov and the Vice Dean of the Nazarbayev University Graduate School of Public Policy, Professor Colin Knox delivered welcoming remarks.
In his speech, A. Baimenov noted that the pandemic has once again underlined the vital significance of public trust, which is not only a social value but a significant administrative capital. In this regard, he said that it is important for governments to focus on mass communication strategies, the professional culture of the civil service, cooperation with the NGO and business sectors, as well as on unconditional respect and protection of citizens' rights and freedoms. Along with this, A. Baimenov stressed the importance of ensuring a balance between commitment to strategic goals, based on the country and global challenges, and the need for quick wins.
Senior Advisor of the Center for Economics and Public Administration Ms. Christine Leitner (Great Britain-Austria), an international expert on economic policy Mr. Rupinder Singh (Great Britain), rector of the Academy of Public Administration under the President of Kazakhstan Mr. Yerlan Abil, and expert on PAR Mr. Admir Šahmanović (Montenegro) made presentations at the session.
At the end of the panel, participants discussed the impact of COVID-19 on public administration and civil service, their ability to cope with such challenges, the role of digital technologies and capacity building of civil servants in this, as well as critical areas in which improvements need to be made in order to subsequently effectively cope with new challenges in the post-pandemic era.
The event is aimed at strengthening the capacity of countries to fight the pandemic and to function effectively in the new reality.