Impartiality at the interview is a prerequisite for an effective selection of civil servants
On 21-22 February, the heads and staff of the human resource management units of the Presidential Administration and the Prime Minister's Office, as well as the central government agencies of Kazakhstan participated in the training on interviewing techniques to select the best candidates for public service, organized by the Astana Civil Service Hub.
Opening the seminar, the Chairman of the Steering Committee of the Hub Alikhan Baimenov noted: "Ensuring impartial evaluation of the candidates for civil service during the competitive interview is one of the challenges of the staff selection process. Therefore, it is crucial to improve the work of the interview panel. At the same time, the role of human resource management services should be enhanced".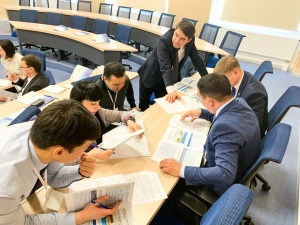 The training is aimed at developing interviewing skills, asking the right questions, analyzing and evaluating the candidate's replies. During the training, participants discussed various types of interviews, key problems that reduce its quality and reliability, best selection and recruitment practices implemented in Kazakhstan, including the experience of UNDP and national companies.
In addition, the participants developed methodological and practical recommendations for human resource managers of state bodies, including the tools for personnel planning, selection of applicants and assessment of their potential.
The training was organized by the Astana Civil Service Hub with the support of the Agency of the Republic of Kazakhstan for Civil Service Affairs and Anti-Corruption, the Association of HR Managers and the Graduate School of Public Policy, Nazarbayev University.