Merit-based HRM in civil service was discussed in Baku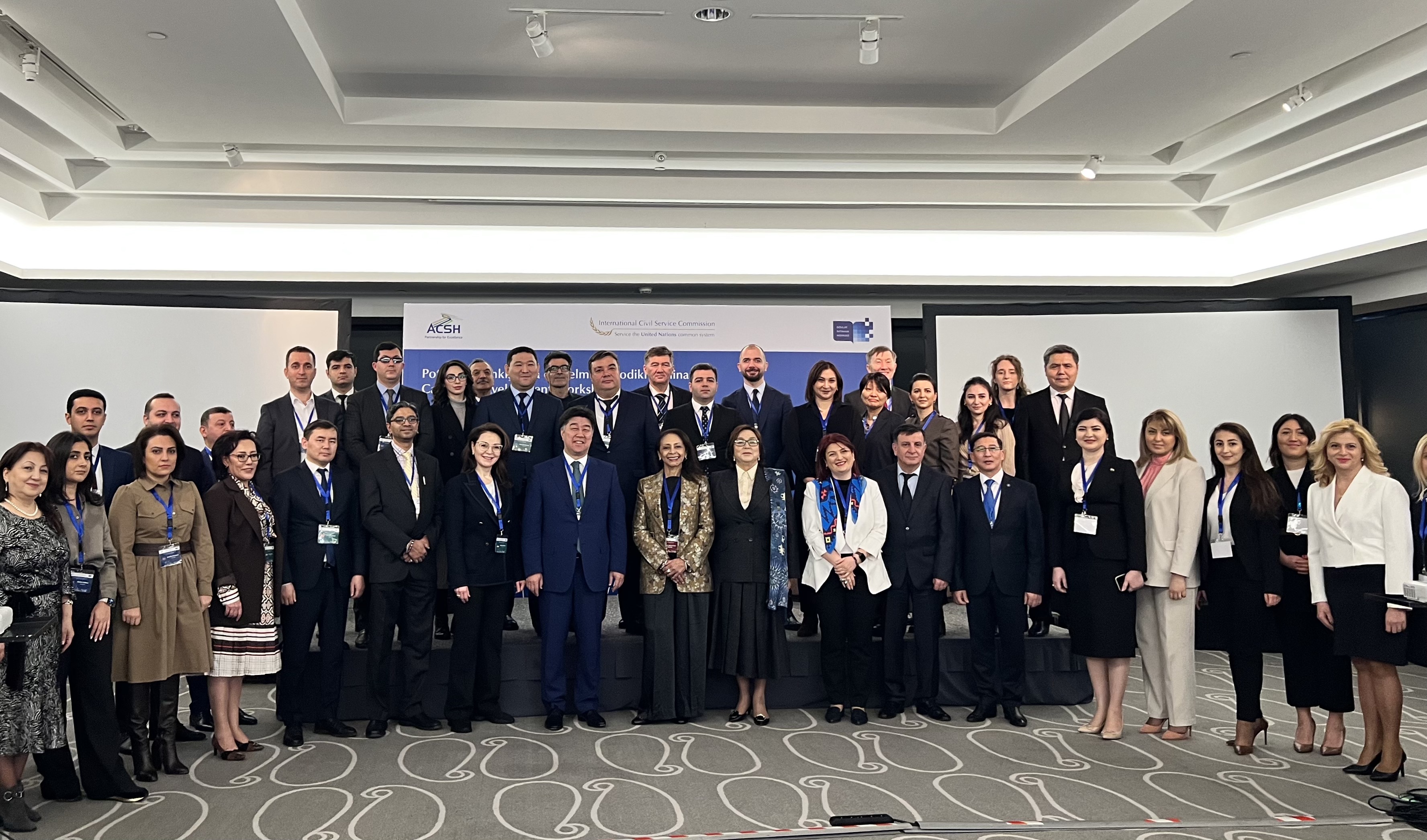 On 20-21 December 2022, the capacity development workshop on "Merit-based civil service HRM in the 21st century" was held in Baku, Azerbaijan. The event was organised by the Astana Civil Service Hub (ACSH) with the International Civil Service Commission (ICSC) and the State Examination Center of the Republic of Azerbaijan (SEC).
The workshop was opened by Ms. Maleyka Abbaszadeh, Chairman of the Board of Directors of the State Examination Center of the Republic of Azerbaijan, followed by Mr. Alikhan Baimenov, Chairman of the Steering Committee of the Astana Civil Service Hub. On behalf of the Chairman of the International Civil Service Commission H.E. Mr. Larbi Djacta the welcoming notes was delivered by Ms. Henrietta De Beer, Chief of the Human Resources and Policies Division.
Mr. Baimenov has greeted participants of the workshop and said that "a new reality generated by the COVID-19 pandemic, geopolitical tensions, and an increased level of uncertainty – a BANI world in short – has underlined the significance of the quality of public administration and civil service at the core". He also outlined that "a key factor of effective civil service is the quality of human resources and human capital. The latter is determined by a greater focus on human resource management, working conditions and an environment that civil servants operate in".
In her welcoming remarks Ms. Abbaszadeh outlined the importance of the effective use of human capital in public administration, revealing the potential of civil servants, as well as the importance of updating tasks on filling vacant positions in government agencies, continuous professional development of servants and reforms in the civil service.
Meanwhile Ms. De Beer has mentioned that "the ongoing pandemic and its impact on working arrangements will require a renewed focus and prioritization of initiatives that strengthen employee engagement, learning and development through enhanced technology, through diversity and inclusion, and by promoting the mental health, psychological safety and well-being of staff as a duty of care".
During two-day workshop, representatives of ICSC have presented a strategic overview of the HRM function and their experience on the merit principles of achievement, diversity, motivation of civil servants, as well as shared good practices in the use of competencies in selection, performance assessment, and career management and development.
The workshop has successfully gathered together over 60 attendees, among which were heads of civil service agencies and public administration academies of Azerbaijan, Georgia, Kazakhstan, Kyrgyzstan, Republic of Moldova, Tajikistan, Ukraine and Uzbekistan, as well as representatives of state institutions responsible for the development and implementation of human resources management policy in the Azerbaijan's civil sector.
In the framework of the visit to Baku, Chairman of the ACSH Steering Committee Mr. Alikhan Baimenov delivered a lecture on strategy, management and leadership for professors and master students of the Academy of Public Administration under the President of the Republic of Azerbaijan.
All materials and photos from the workshop are available via following link.