International scientific and practical conference "Distance functioning of state servants"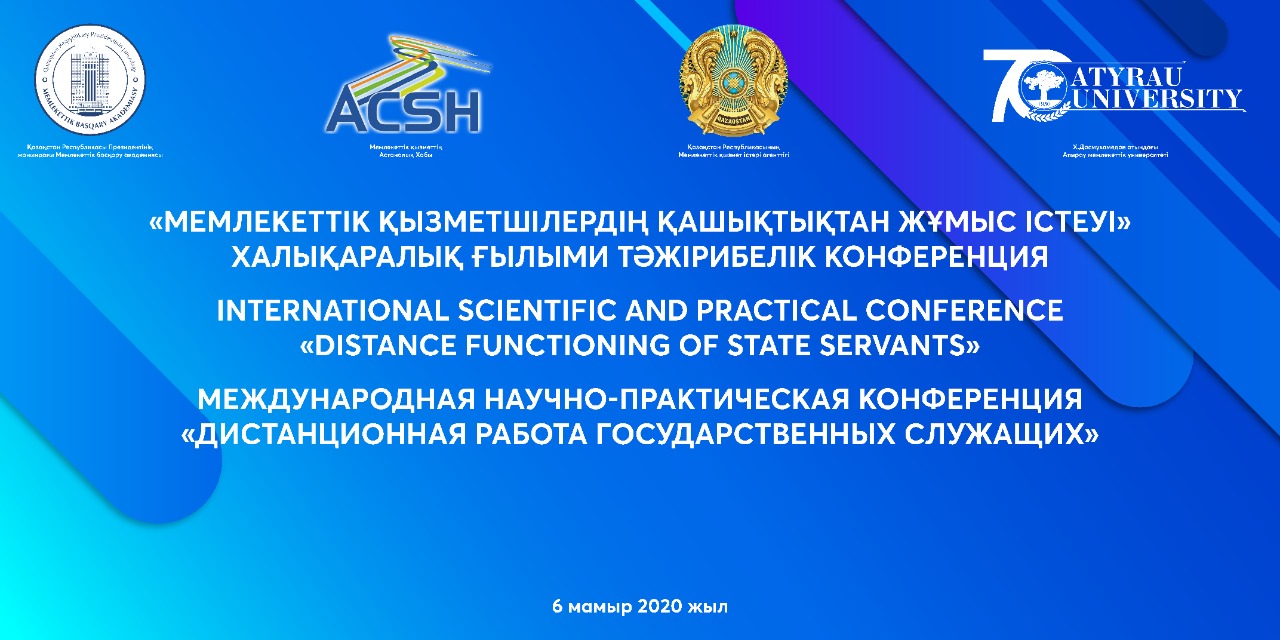 Quarantine regime in the case of COVID-19 pandemic accelerated the use of digital technology, concurrently exposing existing problems in this field.
These issues were discussed in the international conference "Distance Functioning of State Servants", organized by the Agency of the Republic of Kazakhstan for Civil Service Affairs jointly with the Astana Civil Service Hub (ACSH), the Academy of Public Administration under the President of the Republic of Kazakhstan and the Atyrau State University named after Kh. Dosmukhamedov.
The conference was opened by Mr. Alikhan Baimenov, Chairman of the Steering Committee of the ACSH and Mr. Darkhan Zhazykbaev, Deputy Chairman of the Agency of the Republic of Kazakhstan for Civil Service Affairs.
In his welcoming speech, Mr. Baimenov stated that pandemic can be a short-term phenomenon, but it will undoubtedly cause long-term impact. He also stressed: "Public administration in all countries is under great pressure. During this period, citizens have the right to expect that they will receive all the necessary services and the government will effectively expend taxpayer funds. At the same time, it is important to maintain transparency and accountability in such expedited decisions".
Mr. Zhazykbaev noted that "one of the expected measures under the quarantine was the transition of state bodies to telecommuting, as a result of which about 70% of civil servants currently work remotely", emphasizing importance of deliberations and sharing experience in the implementation of remote working.
Ms. Irina Agapishvili, Head of the Analytical Department of the Civil Service Bureau of Georgia and Mr. Bahram Khalilov, Deputy Chairman of the State Examination Center of Azerbaijan shared their experience in implementing the telecommuting in the civil service. They outlined the importance of preparatory work for the transition to the implementing mode of civil servants, as well, as the possess of necessary competencies.
Mr. Glen Zygmuntowicz director of "Tonys Imported Marble and Tile" (Massachusetts, USA) spoke about the transition to telecommuting in USA. Mr. Olzhas Kudaibergenov, Senior Partner and Founder of CSI shared his views on the effectiveness of the state apparatus under the emergency.
The results of a survey about pros and cons of the telecommuting in civil service during the quarantine were presented in the conference. The survey results showed that more than half of respondents have a positive view of move to the telecommuting, although there are organizational and technical issues. At the same time, 31% of respondents noted that there are often technical problems, and 19% reported an extremely low quality of the Internet.
The conference was attended by the representatives of central and local government authorities of the Republic of Kazakhstan.
The ACSH continues to work on capacity building of state bodies and search for tools on enhancement of their performance during the emergency.
The video recording of the conference is available on the ACSH Facebook page.