The experience of the Astana Civil Service Hub has been discussed in Brussels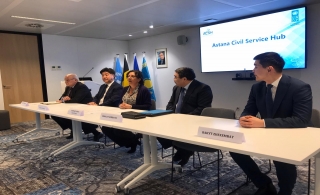 The roundtable devoted to "Partnership for Public Service Excellence in Central Asia - the role of Kazakhstan" was held in Brussels. The participants included representatives of the government authorities of Kazakhstan, Kyrgyz Republic and Belgium, the European Commission, the UN, diplomatic missions of Kazakhstan and EU Member States, as well as the ACSH delegation.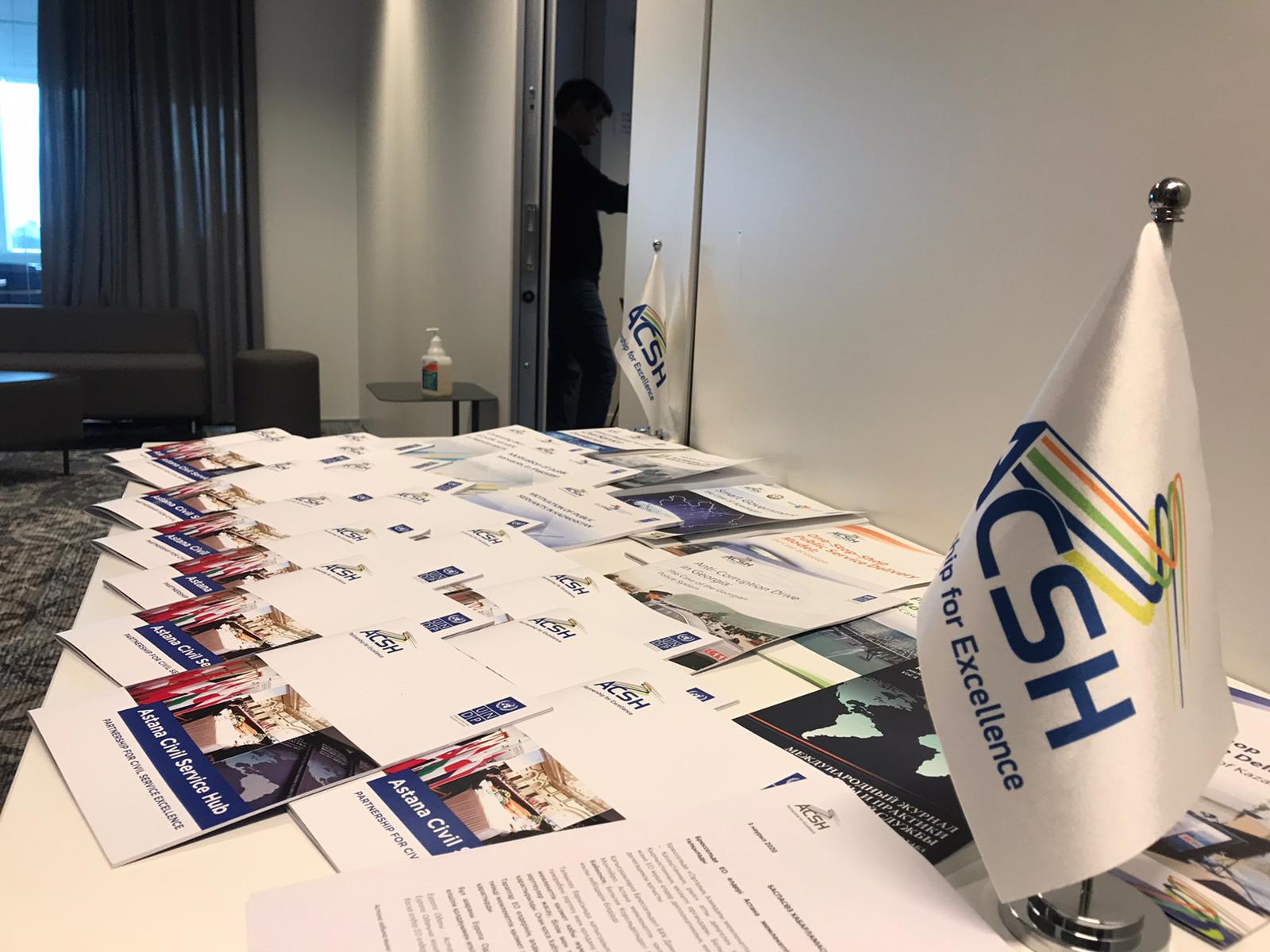 In her opening speech, Ms. Barbara Pesce-Monteiro, Director of the UNDP Representation Office in Brussels and UN Secretary-General's representative to the EU and the Belgian authorities, noted that the Hub's platform is a "fantasticopportunity" to share experience and strengthen cooperation in the field of civil service. She emphasized that such a unifying platform is especially important within the era of new technologies development and digitalization. "A thin civil service system requires different tools, and everyone has different fundamental working methods", said Peske-Monteiro.
The Chairman of the Steering Committee of the ACSH Mr. Alikhan Baimenov also noted that to date, the Hub as a global multilateral platform includes 42 participating countries and more than 55 institutional partners - organizations from all around the world.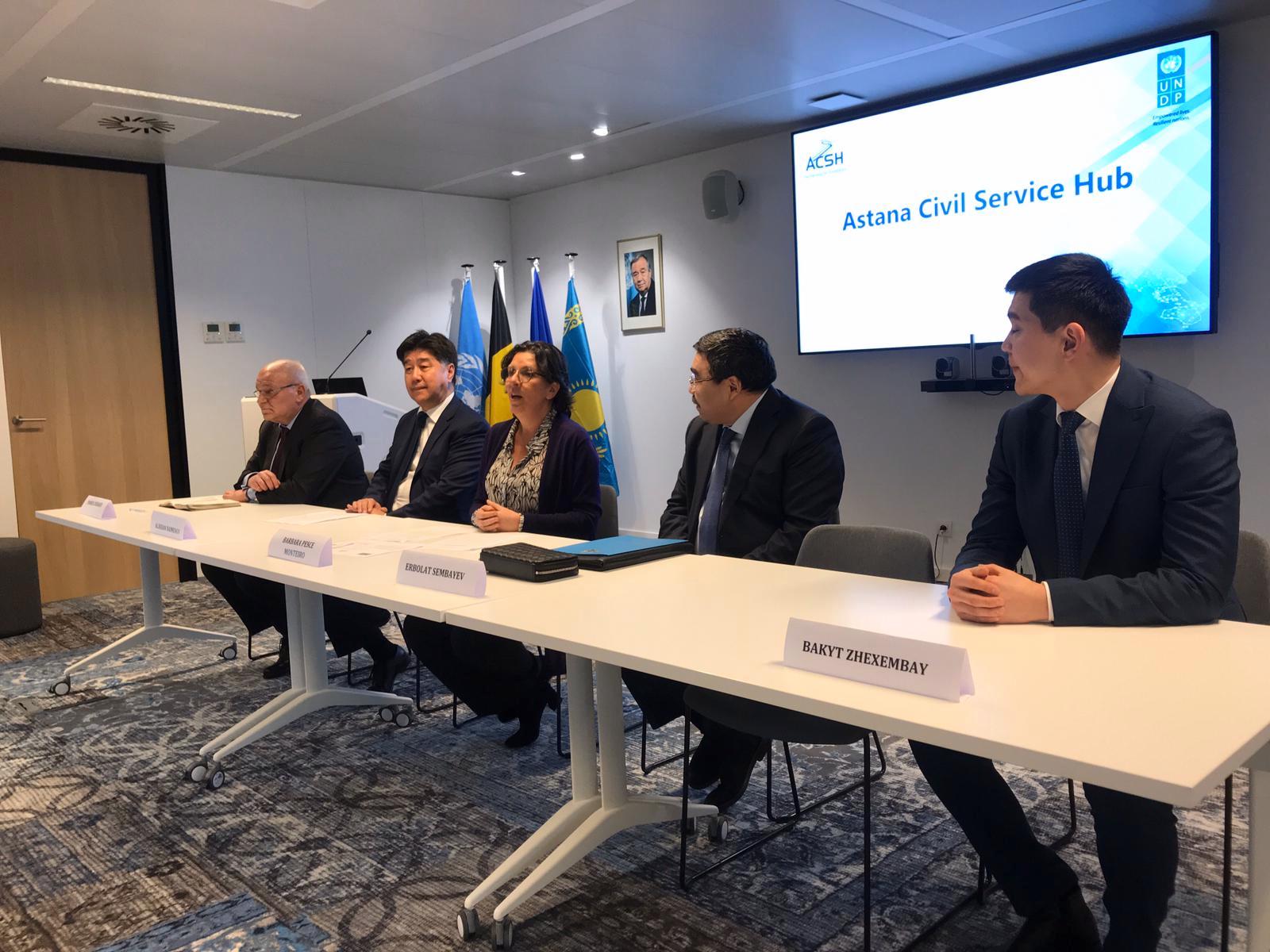 Mr. Yerbolat Sembayev, Minister-Councellor of the Embassy of the Republic of Kazakhstan to the Kingdom of Belgium, believes that "the quality of public administration is largely determined by the quality of personnel training". In this context, he noted the relevance of the activity of the Hub, which is a large-scale project of the Government of Kazakhstan and the UNDP. He also stressed that 15 March marks 7 years since 25 countries and 5 international organizations adopted the Declaration on the establishment of the ACSH.
During the event, representatives of the European Commission and representatives of diplomatic corps showed interest in studying practices and working methods of the Hub in the context of regional cooperation. International participants of the roundtable commended the activities of the Hub and reiterated their interest in developing further cooperation.
The participants also discussed the study and application of the best practices of European countries in the field of public administration. As part of the event, new research projects and publications on civil service were presented, as well as the Hub's performances in terms of capacity building, conducting applied research and sharing knowledge and experience were demonstrated to the participants.
The parties also considered the opportunities of partnership enhancement for dissemination of best practices of the EU Member States and further promote the development of effective civil service systems in the countries of the region. Currently, 11 EU member states are participating countries of the Hub, while the EU is one of the founders of the platform.
The event was organized by the ACSH and the UNDP Representation Office in Brussels with the support of the Embassy of the Republic of Kazakhstan to the Kingdom of Belgium.