Vice Ministers have completed a Five-week Training Course on Digital Transformation of Public Administration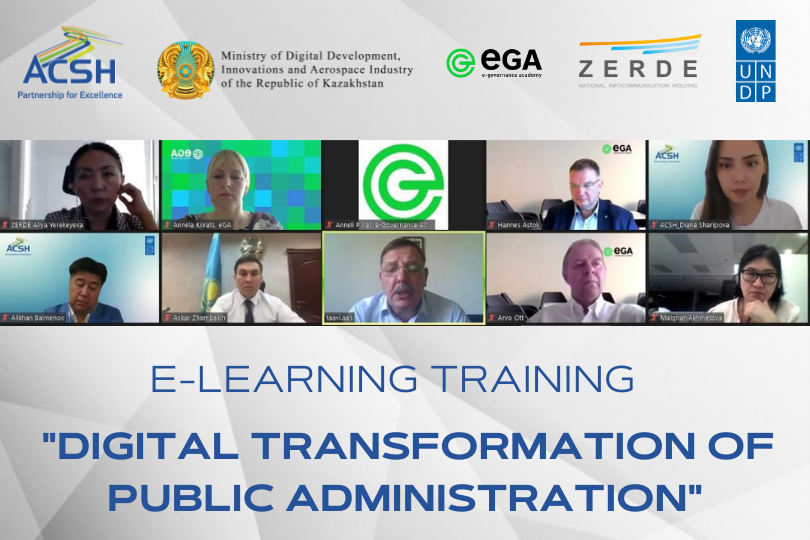 Today, a five-week online training course on "Digital transformation of public administration" for Vice Ministers, Heads of Digitalization Departments of state bodies of Kazakhstan and employees of the "Zerde" Holding has ended.
The event was organized by the Astana Civil Service Hub jointly with the "Zerde" National Infocommunication Holding" JSC and the United Nations Development Program with the support of the e-Governance Academy of Estonia (eGA) and is aimed at accelerating the processes of reengineering and digital transformation, which in turn allowed participants to familiarize with the possibilities of effective transformation of business processes and create a modern and unified IT architecture of a state body.
The training participants studied both independently (offline) by using specially prepared video lessons, and with the participation of international speakers in the online format via ZOOM platform.
During the presentations, international experts of the eGA outlined to the participants new opportunities for digital transformation of public administration and effective cases of digitalization development in state bodies.
The first introductory sessions were devoted to explaining the general approach and processes that should be considered and planned for digitalization. One of the keynote speakers, Mr. Siim Sikkut, Government CIO of Estonia, spoke about the role of government CIO in e-government planning and coordination, as well as how to guarantee sustainability in e-government implementation.
Mr. Arvo Ott, Member of the eGA Management Board/ First Government CIO of Estonia, highlighted about mandatory components in the e-government architecture to organize information sharing in secure and legitimate manner. He also explained what should be the order, logic of re-desinging public processes in building information society.
Also, at one of the sessions, Mr. Raul Rikk, Director of Cyber Security of the Estonian Ministry of Economic Affairs and Communications, gave a view on the information security concept in e-government and told how should cyber security strategy be implemented in a full scale, highlight the importance of coordination.
In the framework of the training Mr. Janek Rozov, Strategy Director at Information Technology and Development Centre of the Ministry of Interior/Former IT Director of the Estonian Government presented methodology how provision of public services is changed when transforming public services into electronic form. Moreover, issues related to cost efficiency and quality improvement of public services via process re-engineering were discussed.
In addition, the speakers acquainted participants with the latest global digitalization trends and shared best practices and business models of leading countries.
Upon completion of the training, the participants received certificates of successful completion of the course.