HR Development through E-learning: Experience of the Countries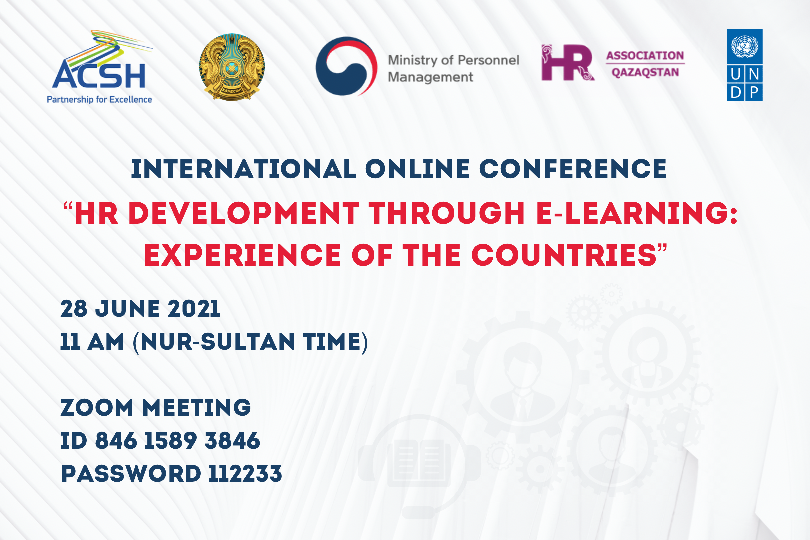 The Online Conference "HR DEVELOPMENT THROUGH E-LEARNING: EXPERIENCE OF THE COUNTRIES" will be held on 28 June 2021.
Main objective is to discuss the challenges, lessons learned and achievements of the Hub participating countries in the development of human resources in the civil service through e-learning. Participants will learn about the effective platforms, innovative technologies, as well as teaching methods and approaches for designing online programs. The conference will serve as a platform for the exchange of practical experience and knowledge at the global level, enhancing cooperation and partnerships, including P2P learning schemes.
The event will present the experience in the field of human resource development in Georgia, Estonia, Republic of Korea, Kazakhstan, Ukraine and Uzbekistan. Moreover, the experience of corporate sector will be shared by HR Association Qazaqstan. The conference participants are representatives of the authorized state bodies of Hub participating countries and other countries, professional organizations, academies, universities and institutes, as well as international organizations.
The conference is jointly organized by the Astana Civil Service Hub, the Ministry of Personnel Management of the Republic of Korea, the Agency of the Republic of Kazakhstan for Civil Service Affairs and HR Association Qazaqstan.
We invite everyone to take part in the conference!
Please use the following details:
Date: June 28, 2021
Time: 11AM (Nur-Sultan time)
Meeting ID: 846 1589 3846
Passcode: 112233
Working language: English.
Simultaneous interpretation to Kazakh, Korean, English and Russian will be provided.
The Concept Note and Agenda of the event are available here.