The Government of the Republic of Korea together with the ACSH, UNDP and Holding Zerde will hold a regional conference on digital government development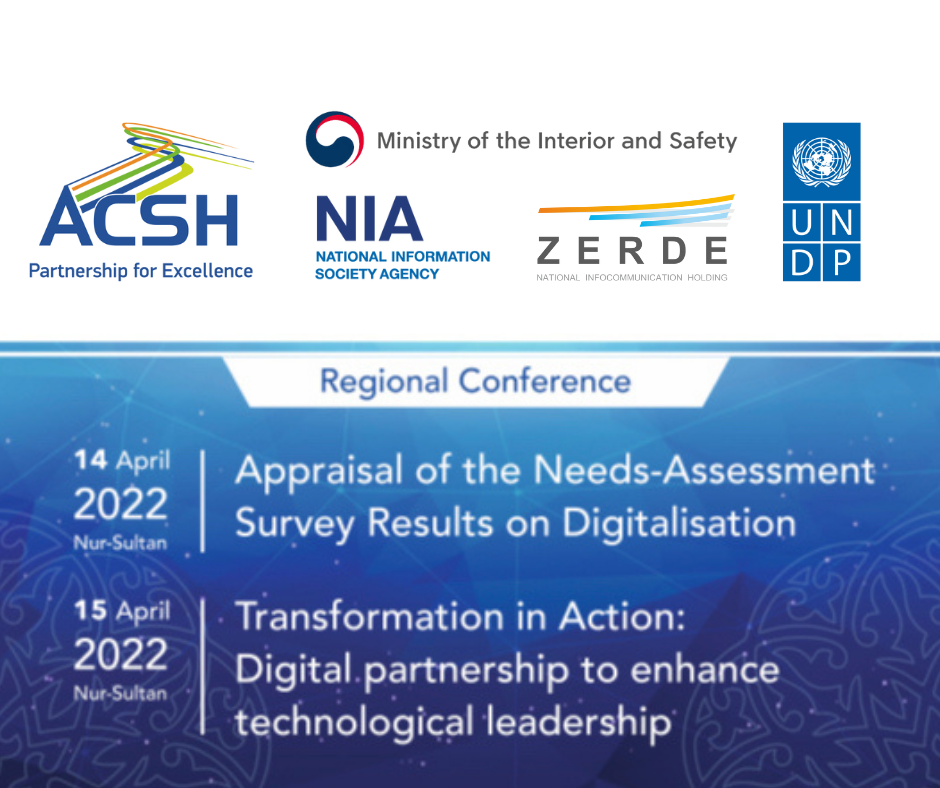 On April 14-15, a regional conference on digitalization will be held in Nur-Sultan, Kazakhstan, with participation of representatives from Azerbaijan, Armenia, Georgia, Kazakhstan, the Republic of Korea, Kyrgyzstan, the United States, Tajikistan, and Uzbekistan.
The conference is organized by the United Nations Development Programme (UNDP), the Astana Civil Service Hub (ACSH), Ministry of the Interior and Safety (MOIS), National Information Society Agency (NIA) of the Republic of Korea and "National Infocommunication Holding "Zerde" JSC.
On the first day of the conference, the results of the Needs-Assessment Survey in Digitalization in seven countries of Central Asia and Caucasus will be presented with regard to the introduction of innovations in the administration as well as the digitization of public service delivery. Key speakers iunclude:
Mr. Alikhan BAIMENOV, Chairman of the Steering Committee of the Astana Civil Service Hub
Mr. Darkhan ZHAXYKBAYEV, Chairman of the Agency of the Republic of Kazakhstan for Civil Service Affairs
Ms. Min Sun JEONG, Director of the Digital Resource Policy Division of the Ministry of the Interior and Safety (MOIS), the Republic of Korea
Mr. Yakup BERIS, Resident Representative of the UNDP in Kazakhstan
Mr. Arman ABDRASSILOV, Chairman of the Board of the "National Infocommunication Holding "Zerde" JSC
Mr. Vincenzo AQUARO, Chief of the Digital Government Branch of the United Nations Department of Economic and Social Affairs (UN DESA), will speak about global and regional trends in digitization and the UNDESA survey on e-government.
The conference will be moderated by CEO and Principal Consultant of YONG Consulting Group, Ms.Mijung KIM, and ACSH Research and Knowledge Management Consultant Mr. Panos LIVERAKOS.
On the second day of the event, international and national projects for the development of digital transformation of government agencies will be presented. The event will serve as a platform for sharing experience, innovative solutions and ideas in the field of Big Data analytics and digital transformation.
The event will be held offline, the programme can be found here. The working languages of the event: English, Russian and Korean, simultaneous translation will be organized.
---
This conference is organized as part of a joint UNDP, ACSH, MOIS and NIA regional project that aims to strengthen the capacity of officials and practitioners from seven countries in Central Asia (Kazakhstan, Kyrgyzstan, Tajikistan and Uzbekistan) and the Caucasus (Azerbaijan, Armenia, Georgia) involved in the implementation of innovations in the system of public administration and digitization of public services. The project is designed for three years (2021-2023) and includes research, seminars, conferences, and study visits to the Republic of Korea.